...especially when trying to set up a massively multiplayer online game (aka MMOG). Take Blizzard and its 9 million
World of Warcraft
subscribers for example.(1)
Okay, I'll burst the bubble of anonymity. I go to an Ivy League school. Last month, the
Ivy Council
, an umbrella organization that includes all of the Ivy League schools' student governments decided it would be a good idea to create an event that would unite Ivy League students in a social (and outside the academic and athletic) environment. Their solution:
GoCrossCampus
(aka GXC, or GCC).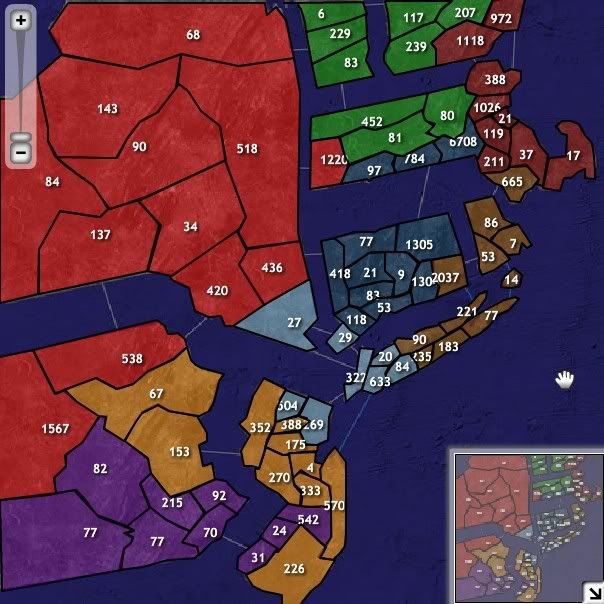 GXC was the brainchild of five students, four from Yale and one from Columbia. It grew out of popularity of Yale's
Old Campus Tree Risk
, a similar game where Yale students were able to conquer its campus using virtual armies. Though crude in style and code, the original game was able attract hundreds of students.(2) The idea was expanded to include the whole of Ivy League, pitting its armies into battle across the New England region. GXC distinguishes itself from the connotation of "just another game" by branding itself as a
social online game
. Each Ivy League school could elect commanders to lead the team in strategizing and arranging alliances. Recruitment and retention were important as teams could received army reliability bonuses and participation multipliers.
I'm not sure what the developers held in mind when they designed a "social" game. I'm sure they wanted Ivy League students to interact amongst each other, but it definitely went beyond it. Teams began getting serious and created alliances, created its own thinktanks, formed intelligence and counterintelligence units, and formed councils for discussions behind closed doors. Leaders even met outside the game person-to-person on campus. (This would not happen very often in
WoW
.) There are two chatrooms in the game, one is available for the school you belong to, and one for the public (think guild and General chat). Both have their own quirks. Contrary to popular belief, Ivy League students are just like any other students. The only difference we have is probably some form of enmity we have for each other, big or small. Calling names and making jokes. And then there are those who go against the commanders' battle plans and decide to attack whatever territory they want, even if it's an ally's territory.
There's also a disconnect when game developers design a game and fail to anticipate problems. For about a week, the game was running perfectly fine. Flash-generated maps were being generated with little problem, and tracking your own team's army movements was easily trackable. However, surges in player registration and problems with the server (note the singular word) began to mount as registration reached 3000, not counting the other campus games GXC was going to start. Only when the maps started to become buggy did they finally decide to get three more servers. Commanders of each team and their advisors, fortunately, managed to get flash maps (that were disabled because it was eating up too much server power) with the help of each team's resident computer expert by looking into the game's source code. Coordination became very hard to do when the majority of the players could not get updated maps. Static maps were put up every few hours, but that is lacking compared to having immediate data available to you for urgent army placement. Turn ends were a nightmare because processing was beginning to take several hours.
By the time the developers decided to "indefinitely pause" the game until it could address design issues, the Ivy League championship game had registered 8000 students. Even 4 servers can't handle that with poor management As I quote Brad Hargreaves (Yale '08), one of the game's developers, the game's continuing technical issues "[have] shown us that our identity lies closer to a pickup game of coed football than
World of Warcraft
."(3)
My take is, GXC and Ivy Council got a little bit too overexcited with their idea. Don't release a game or open it to thousands of players before it's ready. If anything, delay it for put it into beta phase. I've played enough browser games to know when a game is ready or not. The successful ones anticipate problems or quickly fix them if they are unanticipated. They shouldn't try to bite off more than what they can chew. Games like
Space Federation
have done very well with this. I'd be surprised if the majority of the 8000 players return to GXC when the pause finally ends at the end of the month.
References
(1) "
World of Warcraft Surpasses 9 Million Subscribers Worldwide
". Blizzard Entertainment. 24 July 2007.
(2) "
Students hazard all in campus Risk game
".
Yale Daily News
. 23 January 2007.
(3) "
Ruminations upon a Pause
". GoCrossCampus. 4 November 2007.